Auctioning of GOs by AIB members
Some of the AIB member countries are auctioning Guarantees of Origin (GOs).
Luxembourg, Italy, Croatia, France so far.

Luxembourg - Institut Luxembourgeois de Régulation (ILR)
ILR started in the second half of 2018 issuing GOs for electricity produced from renewable energy sources from production devices currently receiving production support in Luxembourg.
Those GOs are being periodically auctioned on the ILR auctioning platform.
Auction revenues are used to decrease the cost of the public support scheme.
The auctions are open to any account holder within an EECS registry.
Registration is free of charge, please download the application form.
Auction participants do not need to open an account in ILR GO registry. GOs will be transferred by ILR to any account within the EECS system.

Auctions take place on a quarterly basis separately for wind onshore and solid biomass. More information like the auction calendar, volumes, results as well as concerned production devices are available on https://goauction.ilr.lu/
You are welcome to register to the ILR GO Auction Newsletter.
In case of queries please contact goauction@ilr.lu.
Italy - Gestore dei Servizi Energetici (GSE)
In Italy, GOs auctions were introduced for the first time in 2013, by the Energy Regulator Resolution. Auction revenues are used to reduce the cost sustained by electricity consumers to promote the renewable energy in Italy.

According to the National Legislation, GSE calculates the number of GOs related to the electricity produced and injected into the grid in order to define the quantity of GOs to be offered during the auctions.
The electricity taken into account is the one produced by the RES power plants that benefit from the "dedicated withdrawal" by GSE and which grant feed in tariffs.

As shown in the following table, every year, five auctions are organized by GSE. GOs are differentiated according to the type of plant and production period.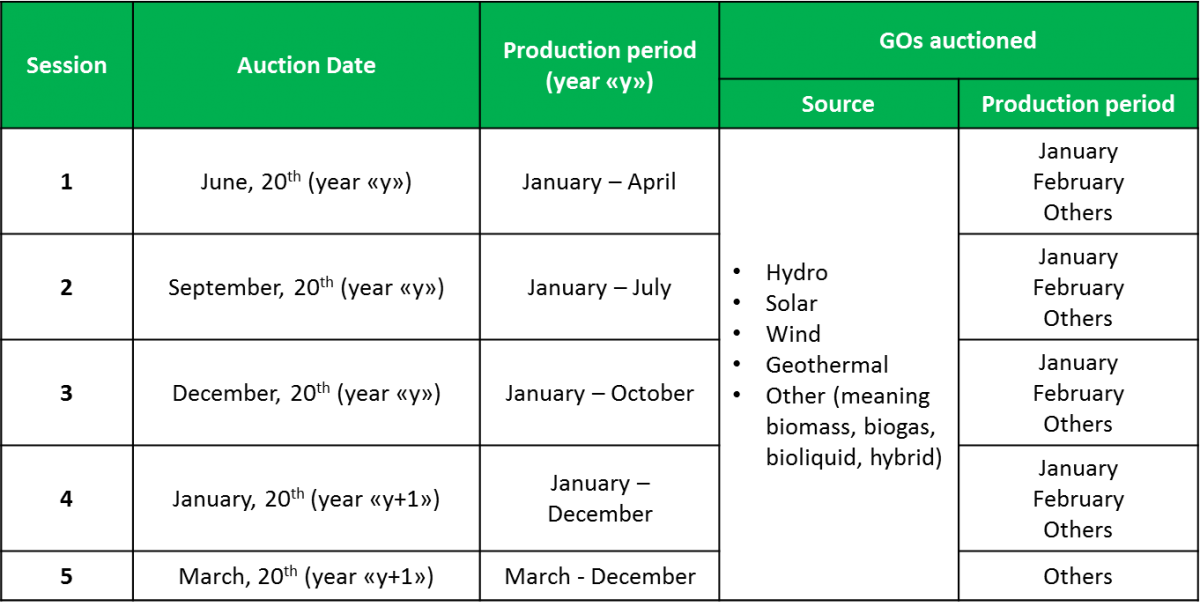 Approximately five days before auction session, GSE publishes on its website: the amount of GOs to be auctioned and the initial auction-bidding price determined by GSE based on GOs market price in Italy. In this way, market operators can start sending purchasing-bid.

At the end of the auction session, GSE publishes, in aggregated form, the number of certificates sold (split by source and production period), minimum and maximum price and the average price weighted by the registered volumes.

More information like the rules for participation, the calendar and many other information on the auctions are available in this document (in Italian) about the Italian Auction Procedure.