EUSEW 2020 - AIB CEER FSR webinar
Understanding renewable gases, hydrogen and power-to-gas: empowering consumers to make informed choices
The extended programme of the European Sustainable Energy Week features individual webinars hosted by EUSEW partnering organisations.
A co-operation of the
Council of European Energy Regulators (CEER);
Association of Issuing Bodies (AIB);
Florence School of Regulation (FSR)
Phil Moody, Secretary General of AIB, spoke about
Implementation of REDII and the challenges for the GO system
AIB wants to thank its co-organisers FSR and CEER and all speakers for this interesting webinar, the recording of which can be found at this link.
Decarbonising the EU's energy system and ramping up our renewable energy use are critical to reach our climate objectives. The route to decarbonisation can take many forms, though biogas, biomethane and clean hydrogen are likely to feature in most of the pathways. The smart integration of renewables, energy efficiency and all possible sustainable solutions across sectors will help to achieve a cost-efficient decarbonisation and ensure/improve the reliability and flexibility of the energy systems.
European consumers have a powerful role to play in driving this transformation forward and are becoming increasingly careful about what and how they consume, also showing a strong support for energy choices that are less carbon intensive. Consumer engagement can make a real difference in this process, but this requires more transparent information about carbon and environmental footprints of products and services available on the market. Fully understanding the costs and potential of the different (emerging) technologies will be essential to make informed choices about more sustainable alternatives and ultimately benefit from the clean energy transition.
Overall the session will discuss sector coupling and sector integration technologies, including the production of hydrogen, and explore possible solutions for the decarbonisation of the gas sector. Apart from addressing possible regulatory and market barriers to develop this, it will explain what the renewable gas, the green gas etc. mean to a wider public. It will also address how to improve the Guarantees of Origin (GOs) system across the Union so that the consumer-driven part of the energy transition can push forward.
Participants can expect an interactive panel discussion with a diverse set of speakers and panellists from various parts of Europe and with different backgrounds.
All information on this event on the website of EUSEW including the agenda, the presentation on the topic of taxonomy for the so-called "green gases",  and the list of speakers.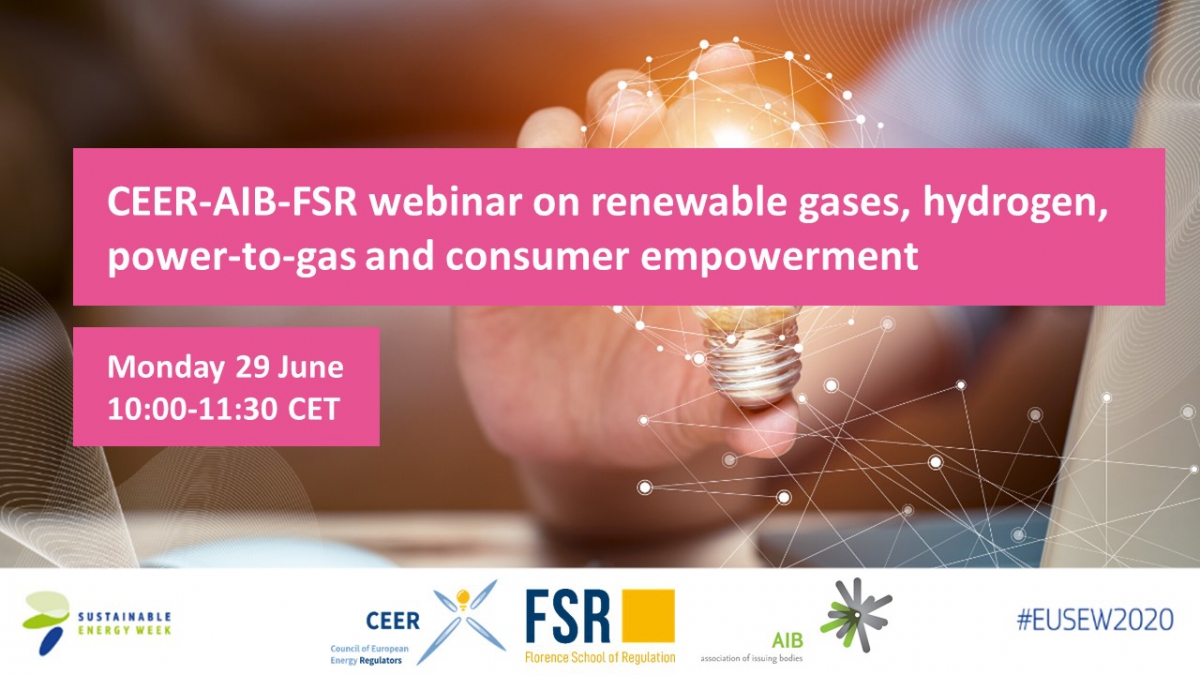 The EU Sustainable Energy Week (EUSEW) is the biggest event dedicated to renewables and efficient energy use in Europe. The 15th edition of EUSEW will be held as a digital event on 22-26 June 2020.

The Week comprises the EU Youth Energy Day, a 3-day Policy Conference focusing on the European Green Deal recovery plan, the EU Sustainable Energy Awards Ceremony with dedicated awards for notable Women in Energy and the citizens' favourite project decided by a public vote (launching in June 2020). Across Europe, digital sustainable energy events called Energy Days, will be organised throughout the months of May and June.